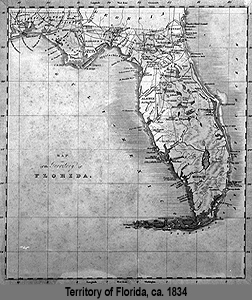 Florida law goes back more than a millennium to English Common Law. When Spain ceded Florida to the United States in 1821, the first government of Florida, in a burst of patriotic fervor, adopted English Common Law as it existed on July 4, 1776. Floridians could have adopted the Common Law as of the date the United States acquired Florida, but instead the State's lawmakers insisted on using our nation's original Independence Day.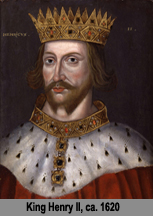 The Circuit Court system in Florida has roots that also hark back to medieval England, when King Henry II (1133 –1189) ordered his judges to ride around the countryside to hear cases, instead of making his subjects come all the way to London. It eliminated the expense of providing every small town with its own judiciary, and led to the birth of the term "circuit court."
Early Florida's frontier settlements were thinly spaced across the vast landscape, so a circuit system based on the English Law's circuit riders was established. The area was ruled at times by Spain and England, thus a little Spanish law crept into the English Common Law to form the system of justice used in the Territory and then in the State.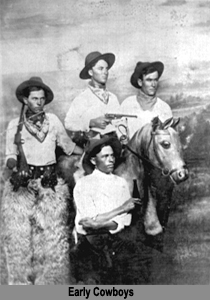 The United States acquired the Spanish territories of East and West Florida in February 1821. In order to encourage settlers to populate the vast territory, Congress offered 160 acres of land to any man with a rifle and ammunition who would build a house there. This attracted some rough characters to the region and the need for a strong rule of law.
The first laws established under U.S. rule, "Ordinances of the Provinces of the Floridas," were issued by Andrew Jackson and held until the organization of the Territorial Government by Congress in 1822. At the time there were only two counties, Escambia on the West and St. Johns on the East, each with a court comprised of five justices of the peace.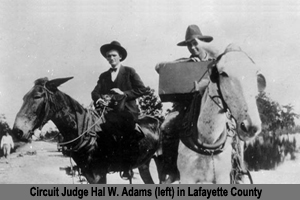 The justices traveled around the wild territory with its far-flung communities and settlements, often sharing the trail with missionaries of the Methodist Church. The religious and legal riders faced days of hard journeying on dirt tracks or forest trails, through mosquito-laden swamps, fording difficult rivers, and plunging into snake-ridden palmetto scrub. They were often confronted with the anger of the native people, the suspicion of the solitary settler or the restless rage of the local inhabitants.
Listen to the accounts of early circuit riders: